2022 Media Consumption Study: Transform Your Face-To-Face Event Thinking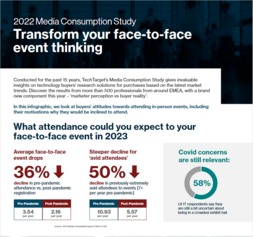 Face-to-face events in 2023 are facing a steep uphill battle. Average attendance faces a 36% decline in pre-pandemic attendance vs. post-pandemic registration, with an even steeper 50% decline for 'avid attendees' from previous years.
So, what's the solution? What will make the IT buying team come to your organization's event?
In this TechTarget infographic, take a deep dive into buyers' attitudes towards attending in-person events, including their motivations why they would be inclined to attend, and the secrets to attracting them to your event.