How should persona thinking inform marketing in an evolving sales environment?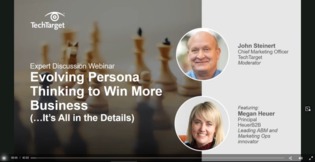 Technology buying dynamics are changing continuously, especially in today's IT environment. Decision-making is distributed across more departments than ever, with 65% of IT staff claiming that their decision-making responsibilities have extended beyond their specific titled scope.
So decision-making for the buyer has been evolving; the real question is, how has your thinking on personas evolved alongside this development?
Tune into this TechTarget webinar for expert insight into how persona thinking should inform marketing and sales execution as customer decision-making processes continue to evolve and expand.