How smarter account-based thinking transforms demand generation performance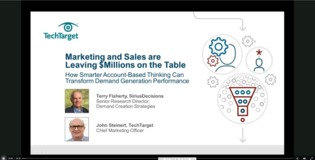 It's no secret that the key to capturing demand — both within your account base and in the market at large — is identifying the right people to convert in your target accounts.
But building a "conversion funnel" in today's market has become more complex, with automation and evolving data sources leaving legacy marketing approaches in the dust.
So how do you eliminate the legacy barriers causing marketing and sales disconnects?
Tune into this TechTarget webinar to learn new ways to accelerate demand capture by leveraging rich behavioral information from internal and 3rd-party sources, and how to make sure your marketing and sales teams aren't leaving potential profit on the table.