ABM Reality: Aligning & Enabling Your SDRs for Better B2B Marketing & Sales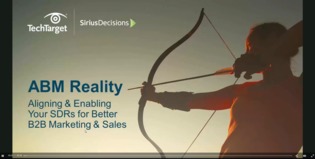 "Inside" sales teams aim to help turn leads into better opportunities. Sounds simple... at least in theory.
But with the changing marketing landscape of ABM, lead scoring and automation platforms, arming the team for success isn't always a straight shot.
Tune into this TechTarget webinar for a close look at the common mistakes companies are making in pursuit of better sales, and discover the secrets to enabling your SDRs for better B2B marketing.