Surviving? Barely! 3 Current Barriers to SDR Success and How to Fix Them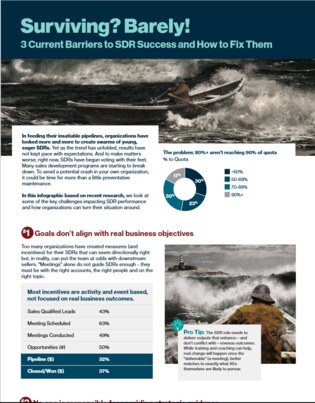 In feeding their insatiable pipelines, organizations have looked more and more to create swarms of young, eager SDRs.
Yet as the trend has unfolded, results have not kept pace with expectations. And to make matters worse, right now, SDRs have begun voting with their feet. Many sales development programs are starting to break down.
To avoid a potential crash in your own organization, it could be time for more than a little preventative maintenance.
In this TechTarget infographic, take a look at the 3 leading challenges impacting SDR performance, and how organizations can turn their situation around.