Out with the old: Moving beyond MQLs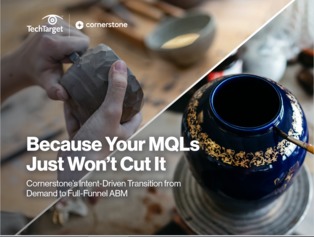 Historically, Cornerstone practiced traditional demand gen marketing, which saw Marketing only going just beyond surface deep into the funnel, without much concern with pipeline or downstream revenue.
However, Cornerstone has uncovered the fundamental problem with this approach; an MQL does not equal an opportunity. For every 1,000 leads generated, they would deliver a handful of buying units that would, at best, deliver a few opportunities.
Explore in this e-book Cornerstone's journey from legacy demand to full-funnel, intent-fueled account-based marketing (ABM), and discover how they realigned Sales and Marketing systems to realize the full potential of ABM and drive sustained success.