Computer Weekly – 18 September 2018: The importance of smartphone sustainability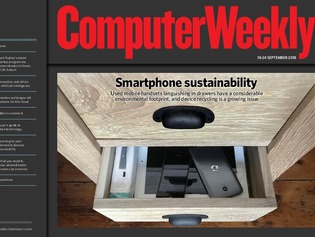 In this week's Computer Weekly, we examine the considerable environmental footprint of the mobile phone industry and ask what can be done to further the circular economy. We find out how disaster recovery as a service (DRaaS) is being used and when it's an option for businesses. And we look at some of the UK's emerging fintech success stories. Read the issue now.
Also featured:
Nigel Shadbolt, principal of Jesus College, Oxford, and co-founder of the Open Data Institute, talks about how the UK is set to lead on AI.
Travelex chief architect Dan Phelps talks about how the firm is changing the way it works by combining people, processes and technology to transform the company and migrate to a digital platform.
In the second part of our buyer's guide to retail technology, we share insights from Forrester's 'Digital Store Playbook' on how to transform retail operations to enhance the digital customer experience.