All Research Sponsored By:

Dell and Intel®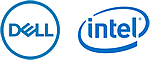 This paper focuses on the differences observed between high-maturity public sector agencies and their lower-maturity counterparts.

Every IT organization can either be described as a "digital controller" or a "digital transformer". Where does your team fall, and how should that impact the way you think about desktop management and PC lifecycle? Take a look at this Forrester Report to find out the optimal PC lifecycle plan for you.