This resource is no longer available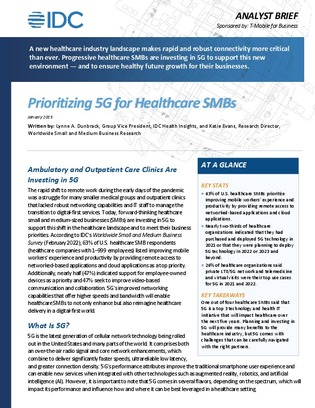 According to IDC's recent small and medium-sized businesses (SMB) study, 63% of U.S. healthcare SMB respondents listed improving mobile workers' experience by providing remote access to networked-based and cloud applications as a top priority. 5G is quickly becoming a central piece of this puzzle.
Today, forward-thinking healthcare SMBs are investing in 5G to support this shift to digital-first services. How can your organization take advantage of 5G in a similar fashion?
Download this IDC report to learn why 5G matters to healthcare SMBs and dive into:
7 5G Use Cases in Ambulatory/Outpatient Care
Important Considerations for SMBs Deploying 5G
How to take the first steps towards 5G
This resource is no longer available.