5 endpoint security best practices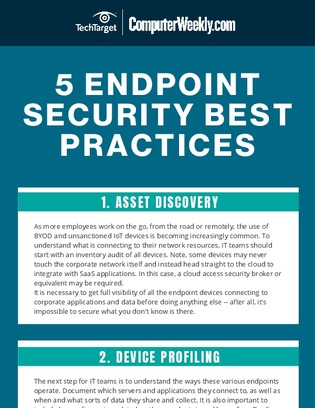 The enterprise definition of endpoint has dramatically shifted over the years. Endpoints traditionally referred to desktop computers and laptops, which could be secured with antivirus software and firewalls. Today, the term covers a wide array of devices used for business, from PCs and laptops to corporate- and employee-owned smartphones to IoT sensors -- all of which require much more security than antivirus and firewalls provide.
With an endpoint security policy in place, organizations can ensure corporate assets and data remain protected even when devices outside of their four walls access them. To get started writing a policy customized for your company, here are five universal endpoint security best practices to consider.