5G vs. Wi-Fi 6: What's the difference?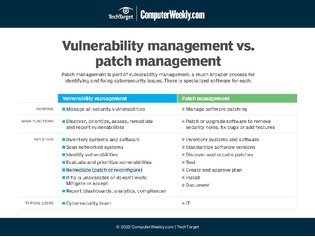 You may think if your IT organization is doing patch management, you're covering the bases when it comes to good security hygiene. However, there is more at stake, and experts say it is important for IT to go a step further and implement vulnerability management.
Although both patch and vulnerability management are intertwined, they differ in critical ways, and it's important to have tools and processes for executing both. Here's a deep dive into their differences, the important places they overlap and software options for automating them.