5G vs. Wi-Fi 6: What's the difference?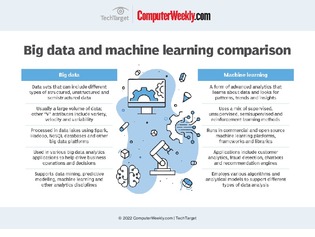 Data is at the heart of every modern enterprise, helping organizations to better understand their customer and improve business processes. But the increasing amounts of data created and collected daily also represents a continuous challenge.
As more companies master the big data management process, forward-thinking ones are applying intelligent and advanced forms of analytics, such as machine learning, to extract more value from the data in their systems. In this infographic, we take a lot into the concepts of big data and machine learning, and how they differ and relate.