RPA bots compared: Unattended vs. Attended vs. Hybrid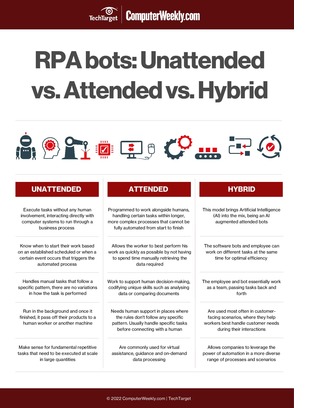 Robotic process automation (RPA) is a hot commodity in today's enterprises. In just about every industry, executives are turning to automation to increase efficiencies, reduce human errors, improve customer experience and cut costs, with many of them opting for RPA to do the job.
Described as transformational and disruptive, RPA bots can be divided into three modes -- unattended, attended and hybrid -- depending on how they operate within the enterprise. In this infographic, we compare the main similarities and differences between the three modes and examine how organizations can benefit from each of them.