Case study: How AWS and AllCloud helped build a hybrid event platform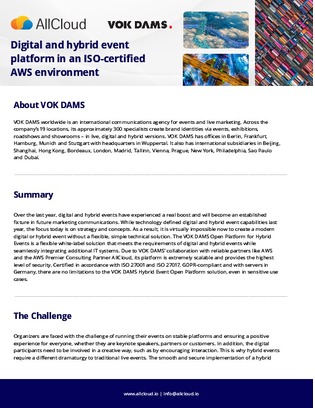 VOK DAMS, an international communications agency for events and live marketing, needed a way to create a platform for hosting hybrid events with both digital and in-person participants. Optimizing UX and security were key considerations in the process.
By leveraging AWS and AllCloud as a MSP, VOK DAMS Open Platform for Hybrid Events was formed. The company now hosts anything from product launches to anniversaries on the platform, enabling a turnkey solution that fosters real and secure engagement for all participants.
Check out this brief case study to explore the benefits of working with AWS and AllCloud to build a foundation for your business innovation needs.