Computer Weekly – 12 November 2019: The importance of digital accessibility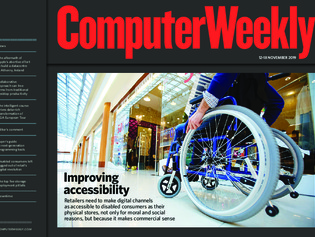 In this week's Computer Weekly, we examine what retailers need to do to make their digital channels accessible for disabled people. We look at the rise of alternative desktop productivity tools to Microsoft Office. And our new buyer's guide covers next-generation programming tools such as no-code/low-code development. 
Also featured:
The site in Ireland that Apple had earmarked for one of its first non-US datacentres is up for sale, but what will become of the site and the local community that supported the four-year battle to get the server farm built?
Younger generations are turning away from golf – so golf is turning to technology to revolutionise the sport and improve engagement with fans and players. We talk to Michael Cole, CTO for the PGA European Tour.
Key pitfalls in data storage include silos, under-utilisation, backup and disaster recovery, plus neglect of skills and application requirements. We ask the experts how to avoid them.