CW APAC: Expert Advice on data management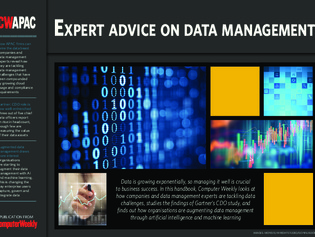 Data is growing exponentially, so managing it well is crucial to business success. In this handbook, Computer Weekly looks at how companies and data management experts are tackling data challenges, studies the findings of Gartner's CDO study, and finds out how organisations are augmenting data management through artificial intelligence and machine learning.
Also inside:
CDO role now well-entrenched, says Gartner: Three out of five chief data officers in a Gartner study reported an increase in headcount, though few are measuring the value of their data assets and a cultural change is needed for true success.
Augmented data management draws more enterprise interest: With AI and machine learning, organisations are starting to augment their data management. This is changing the way enterprise users capture, govern and integrate data.