CW ANZ: Taming the data beast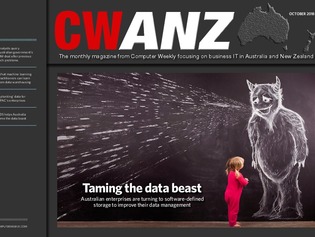 Software-defined storage (SDS), which promises greater transparency and control over data, is an increasingly important tool in the enterprise technology armoury. In this issue of CW ANZ, we look at how Australian enterprises are turning to SDS to improve data management and direct data to different tiers of storage or to applications.
Also in this issue:
Analysts query Australian government's IBM deal after previous tech problems
Industry analysts and experts have called into question the wisdom of the Australian government's A$1bn IT deal with IBM, with one claiming it should have used a range of suppliers instead.
What machine learning practitioners can learn from data warehousing
Cloudera's head of emerging business, Charles Zedlewski, shares lessons that machine learning practitioners can learn from their cousins in the data warehousing sector.
'Splunking' data for APAC's enterprises
Splunk's regional vice-president, Chern-Yue Boey, tells Aaron Tan about the company's business strategy and how its customers are using big data analytics in security and IT operations.