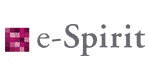 Posted:

Feb 4, 2014

Published:

Feb 4, 2014

Format:

PDF

Length:

17 Page(s)

Type:

White Paper

Language:

English
Sponsored by: e-Spirit AG

Access the following report from Forrester Research Inc. to uncover the largest contributing factors on why businesses fall short when it comes to delivering an exceptional customer experience

Here's the big problem, too many companies struggle for proliferation of channels because the technology they use is marketing-centric rather than IT-centric. As a business, you need to be able to handle large amounts of data to get the marketing ability, not vise verse. So where does this leave you?

Learn how to use an integrated approach with WCM and CXM to enrich the customer experience, ultimately improving customer loyalty and profitability.

Also included:

The need for customer obsession
The tools you need to consider
Expert strategies

And more.